Galley
GALLEY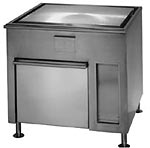 Whether outfitting or repairing, Byrne, Rice & Turner is in a position to assist you.
Byrne, Rice & Turner maintains stocks of commonly requested items and maintains excellent relationships with at least the manufacturers listed below so that items you require can be obtained efficiently and cost effectively.
To see a more complete list of the manufacturers that we represent click here. Don't hesitate to call our office to order or for assistance.800-725-3787. Outfitting Mariners is our only business.
Manufacturer

Byrne Rice& Turner
Stock Notes
Cospolich
Fire-rated Cold Doors
Refrigerators, Freezers,
Food Counters
Lang
World Class Cooking Solutions

Contact us regarding this wide range of galley equipment. Specializing in ranges, ovens, fryers and more.

Raritan
Marine toilets, waste treatment systems, ice makers.

A wide range of marine toilets and marine sewage systems available. Replacement cores also available for Raritan heads.