Electric Winches
NABRICO ELECTRIC WINCHES - 25, 30, & 40 Ton
Details and Specifications
order from Byrne, Rice and Turner
---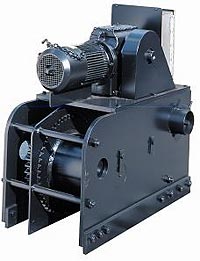 The Nabrico 40 ton Electric Winch
---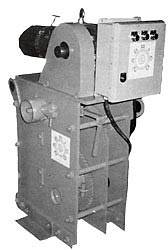 Nabrico 30 ton Electric Winch
---

Electric Winches come complete with all electrical controls. Connect to a power source and the winch is ready to operate.
---
Remote controls are available as an option.
---
FEATURES
A proven holding capacity that is certified by an independent testing laboratory.
Ball bearings on high speed shaft and large bronze bushings with grease fittings on all others shafts for long life and dependable service.
Oversized sprockets and chain for extended life.
Precision machined side plates, gears and shafts to maintain proper gear tooth engagements and minimize wear.
Improved cable attachment and solid drum gear.
Totally enclosed 5 horsepower crane and hoist electric motor with high efficiency gear box attached.
Free-wheeling feature to allow faster cable pullout.
Provisions for emergency manual operation from three locations. One location utilizes the entire winch gear reduction.
Mechanical locking dog for emergency use in case of motor or power failure.
Cable guard prevents cable damage from gears.
Quiet operation.
Minimal maintenance.
See full details and specification below
Categories