Nabrico Parker Winches
NABRICO PARKER TOWING WINCHES
- 25 Ton, Manual or Electric
order from BRT Marine,
800-725-3787
BRT Marine is pleased to supply Parker Towing Winches. Marketed under the Parker name but owned by Nabrico, the Parker line will benefit from the added support of Nabrico's commitment to quality, inventory practices, commitment to product improvement, and customer service.
An electric model is now offered that allows all manual units to be retrofitted.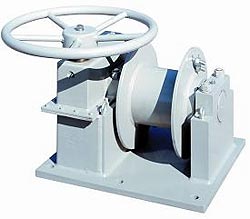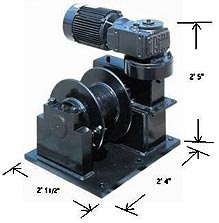 MODEL
MOUNT
HOLDING
BRAKE &
OR DOG
LINE PULL AT FIRST LAYER OF CABLE
LINE SPEED @
FIRST LAYER OF 1
INCH CABLE NO LOAD
DRUM
FLANGE
DIAMETER
@ RATED
AMPS
@MOTOR
STALL
HAND CRANK @
MOTOR SHAFT
HAND CRANK
@ TOP SHAFT
DF-500
S.TONS
LBS.
LBS.
LBS.
LBS.
FPM
IN.
25-7-15
UNIVERSAL
5,800
5,800
7,600
5,000
5,000
25.0
16
---
DRUM
DRUM CAPACITIES (FT)
MOTOR
WEIGHT
DIAM
WIDTH
CABLE SIZE
IN.
IN.
1/2
5/8
3/4
7/8
HP
LBS.
10.75
7.25
186
109
57
39
5,4
1,400
Categories